Special volume
We are collecting contributes for a volume in the Springer INdAM Series.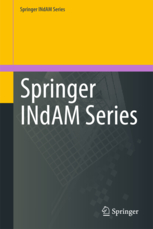 This series publishes textbooks, multi-authors books, thesis and monographs in English language resulting from workshops, conferences, courses, schools, seminars, doctoral thesis, and research activities carried out with the support of the INdAM - Istituto Nazionale di Alta Matematica.
The books in the series usually discuss recent results and analyze new trends in mathematics and its applications.
The series is index in Scopus with a citescore of 0.9 in 2019 putting it in the 40th percentile for the general mathematics section,
Note:
Researchers who are willing to submit a contribution to this volume
should inform us by sending an email to fractionalworkshop@gmail.com
and indicate a tentative title and a possible list of authors. We expect to receive all contributions by
January 15, 2022
, and conclude the review process before
May 2022
, thus publishing the volume during the year 2022.
How to submit
The submission will be processed and reviewed by using the Springer Online Conference Service (OCS) available at https://ocs.springer.com/prom/home/INDAM_FDE
To submit a contribution for this volume of the INdAM Springer Series, please register on https://ocs.springer.com/prom/home/INDAM_FDE.
Submissions must be written in $\LaTeX$ and formatted according to the specific style availabe at https://resource-cms.springernature.com/springer-cms/rest/v1/content/20568/data/v10
Specific instructions are available at https://www.springer.com/gp/authors-editors/book-authors-editors/your-publication-journey/manuscript-preparation. You should follow the instructions and style for "contributed books".
Warning: Important dates:
Abstract Submission: September 15, 2021 23:59 CEST October 15, 2021 23:59 CET November 30, 2021 23:59 CET
Paper Upload: January 15, 2022 23:59 CET,
Assignment of Reviewers: January 31, 2022 23:59 CET,
Review: March 31, 2022 23:59 CEST,
Decision: April 30, 2022 23:59 CEST,
Final: May 15, 2022 23:59 CEST

Share on: